Yousuf Mehter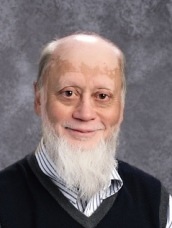 Yousuf Mehter
PE Teacher
Phone: (703) 437-9382
---
This is Mr. Yousuf Mehter's third year at AFA. He teaches Physical Education to girls and boys, from KG to 4th grade and boys only from 5th to 8th grade. His classes are geared towards building speed, strength, endurance, balance, coordination, quick reflex and flexibility together with team and character building.
Mr. Yousuf graduated with M.S. in Entomology from SUNY, College of Environmental Science and Forestry, Syracuse, N. Y. and B. Sc. in Zoology from Arts and Science University, Rangoon, Burma. He holds black belt degrees in Aikido and Karate and has extensive training in sword and staff self-defense arts as well. During his four years in undergraduate school he was enrolled in University Training Corps, which is equivalent to ROTC in the U.S.A.
Mr. Yousuf enjoys playing field hockey. He played for the University varsity team and was selected to the Burma National Team as well.
He was the chief instructor and owner of one of the top Aikido self-defense schools in the country, Aikido of Central New York for 34 years and was a Shura member and president of Islamic Society of Central New York for several years.