Al Fatih Academy is hiring!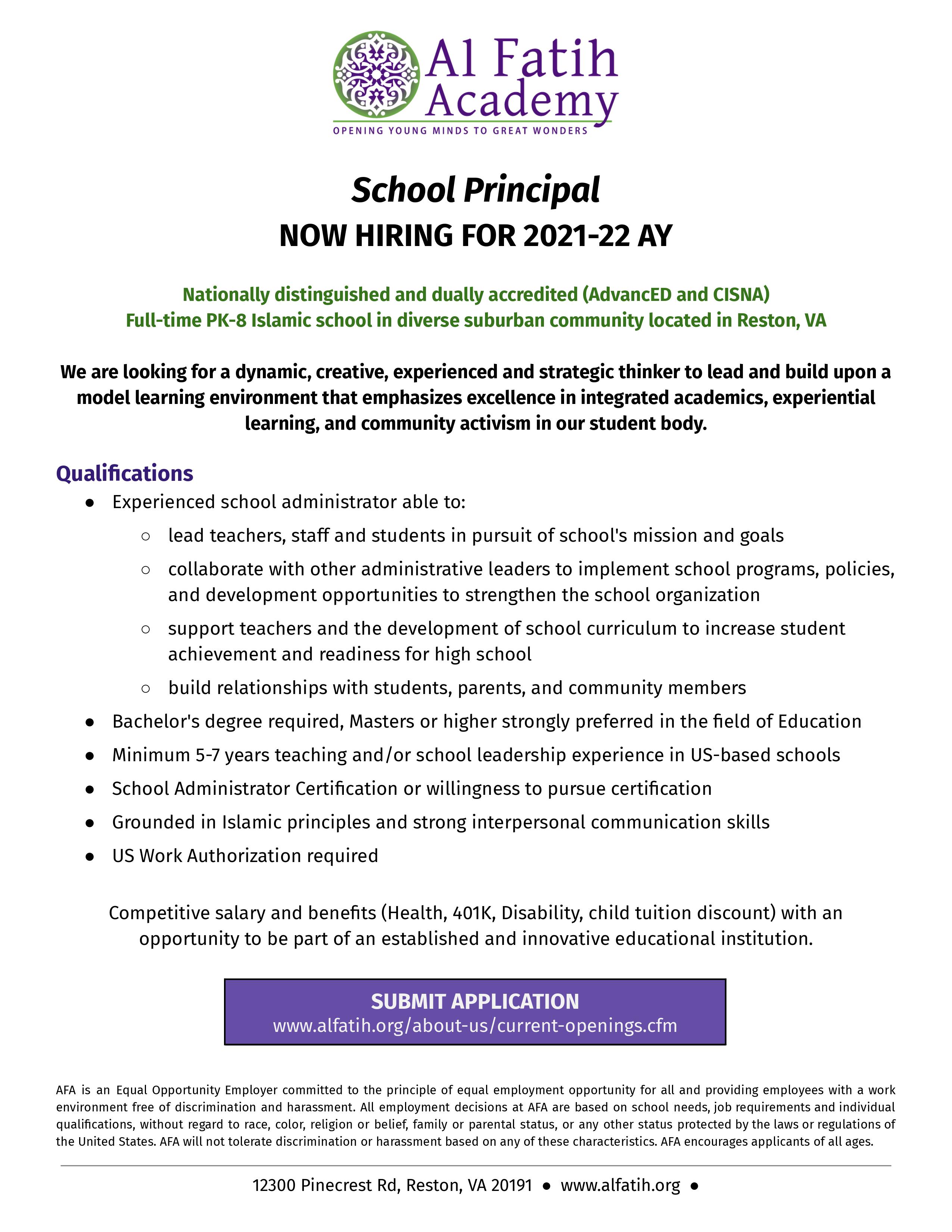 Our dually-accredited (Cognia and CISNA) Preschool - Grade 8 Independent School in Reston, VA is hiring:
Classroom Teachers
Substitute Teachers
Quran and Arabic Teachers
If you are a dynamic and dedicated educator looking to join our community of teachers who nurture hands on learning, creative thinking and serving humanity, we invite you to learn more about us!
Qualifications:
Bachelor's Degree or Higher
State Certification Preferred
Classroom Experience Required
Energetic, Creative, & Flexible Team Player
Our Approach:
Al Fatih Academy's vision is to be a model Islamic learning community that inspires a commitment to excellence in all aspects of life. Its mission is to cultivate and nurture a thriving American Muslim identity that balances religious, academic and cultural knowledge and imparts the importance of civic involvement and charitable work. Through an interdisciplinary and integrated programming approach, we strive to create an educational environment that unites students, teachers, family, and community to provide an exceptional learning experience.
Competitive salary offered based on experience and qualifications.
Excellent benefits offered: Tuition discount, Health, 401K, Disability
Math Instructional Coach
Job Responsibilities:
Implement and oversee AFA school-wide math curriculum and instruction
Implement training and coach teachers to drive math achievement for students in grades KG-8.
Develop and implement assessment/evaluation of math program and student needs
Identify, collect, and disseminate resources/materials to support classroom math instruction
Qualifications:
Master's degree-level program in mathematics, mathematics education, or related education field preferred
Valid Virginia teaching license with endorsement as Math Specialist and/or in Elementary Education PreK-8 (or equivalent)
At least three years of successful classroom teaching experience in which the teaching of mathematics was an important responsibility
Strong preparation and background in mathematics content, instructional strategies, and school leadership. Successful implementation with guided mathematics
Experience in conducting/facilitating staff development training
Exceptional communication skills
Excellent organizational and planning skills
Competitive salary & benefits offered based on experience
Business Manager
Job Responsibilities:
Implement best financial practice standards

Reconcile internal data to accounting posted balances

Review bank reconciliations daily in QuickBooks for discrepancies

Process and record checks, cash deposits, charge backs and credit card transactions Prepare Monthly, quarterly, and annual financial reports

Ensure timely management of accounts receivable and payables.
Tuition Management
Financial Aid Fund Management
Fundraising & Donor Tracking
Contract negotiations with vendors and schoolwide purchasing
Create annual budgets and cash flow forecasts.
Work with CPA to file annual 990s
Maintain accounting & documentation practices that meet external audit requirements
Work closely with School Administrators, Head of School and School Board
Qualifications:
Bachelor's degree in accounting, finance, or relevant field

At least 4+ years of relevant accounting experience

Proficient in QuickBooks, Excel and accounting systems
Understanding of GAAP principles
Strong analytical mind and an eye for detail
Excellent organizational and planning skills
Strong communication skills
Competitive salary & benefits offered based on experience
AFA is an Equal Opportunity Employer committed to the principle of equal employment opportunity for all employees and providing employees with a work environment free of discrimination and harassment. All employment decisions at AFA are based on school needs, job requirements and individual qualifications, without regard to race, color, religion or belief, family or parental status, or any other status protected by the laws or regulations of the United States. AFA will not tolerate discrimination or harassment based on any of these characteristics. AFA encourages applicants of all ages.