A Message from AFA School Counselors
As'salaamu Alaykum Dear Parents,
Thank you for your continued cooperation and support during the current shifts that are taking place in our schedules.
During this time, AFA school counselors will continue to provide counseling services to address the social and emotional needs of our students.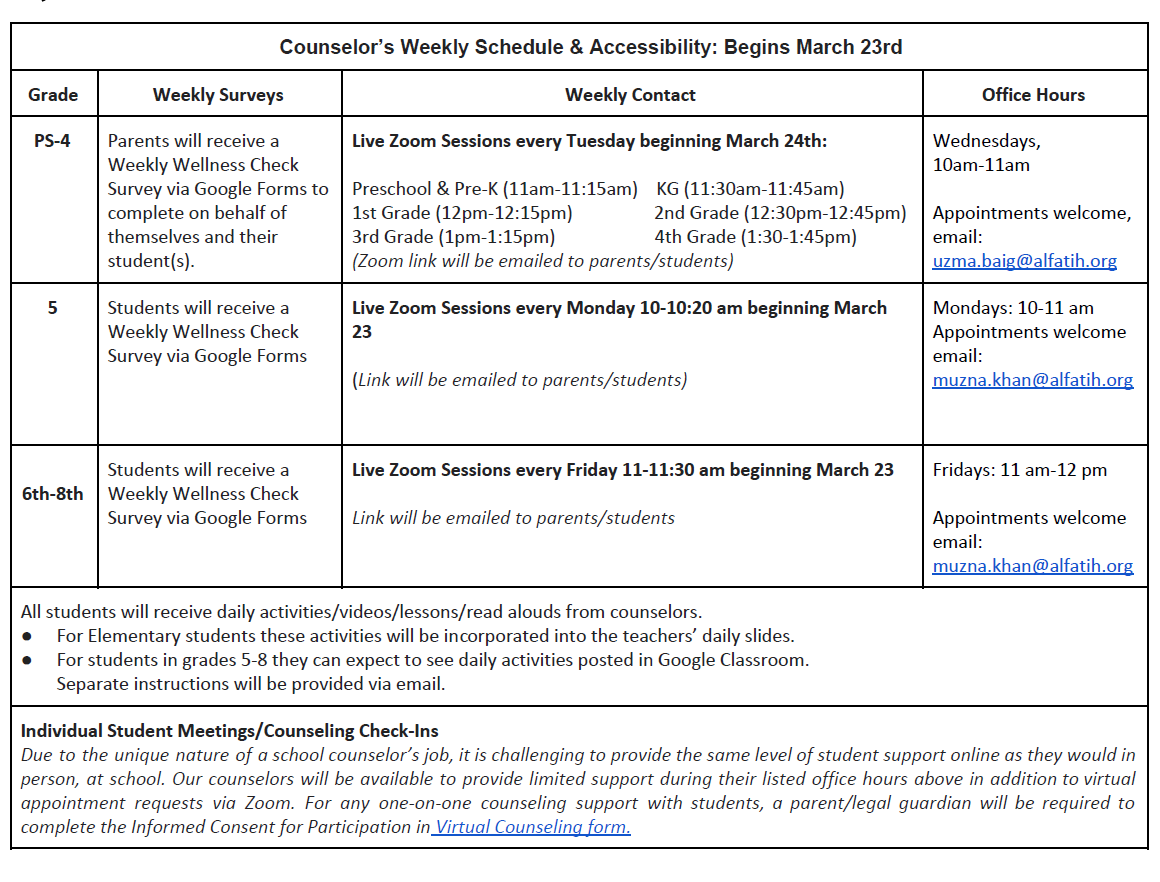 School counselors will:
1. Send weekly videos and activities to students in all grades
2. Send out Weekly Wellness Check surveys to parents and middle school students to determine level of support needed
3. Be available to speak individually via Zoom by appointment - parental consent is required for virtual counseling - more details provided on an individual basis.
4. Include counselor guidance lessons in teacher daily plans
5. Facilitate Community Meetings hosted with admin
6. Share resources on AFA website
All this information has been placed into an easily accessible chart here and is attached to this email for your reference.
What parents can do:
To best support our students and help mitigate their stress and potential anxiety during this time, the American
School Counseling Association recommends the following for parents:
● Limit children's exposure to the media
● Provide a calming influence to students as needed
● Help students address their fear
A few things to keep in mind:
● You know your children best. Let their questions be your guide as to how much information to provide.
● Don't avoid giving them information health experts identify as critical to ensuring your children's health.
● Be patient; children and youth do not always talk about their concerns readily.
● Watch for clues they may want to talk, such as hovering around while you do the dishes or yard work.
● It is very typical for younger children to ask a few questions, return to playing, then come back to ask more questions.
● When sharing information, it is important to make sure to provide facts without promoting a high level of stress, remind children that adults are working to address this concern, and give children actions they can take to protect themselves.
● Children watch us for reactions and how we process information. They notice our tone of voice, body language and how we interact with other adults.
● Step away from the constant frenetic news feed. Fear and anxiety turn on a part of the brain that diminishes reason and often causes us to assume a negative interpretation of even the most mundane conversations with those we love
To learn more about how school counselors provide virtual counseling, click here. If you are interested in virtual counseling for your child, click here for the consent form.
For community mental health resources, click here.
We are here to answer your questions. Thank you for your cooperation and support as we all try to work through this test. May Allah (SWT) guide us. Ameen.
Your Partners in Student Success,
Uzma Baig and Muzna Khan