2021 Fall Online Fundraiser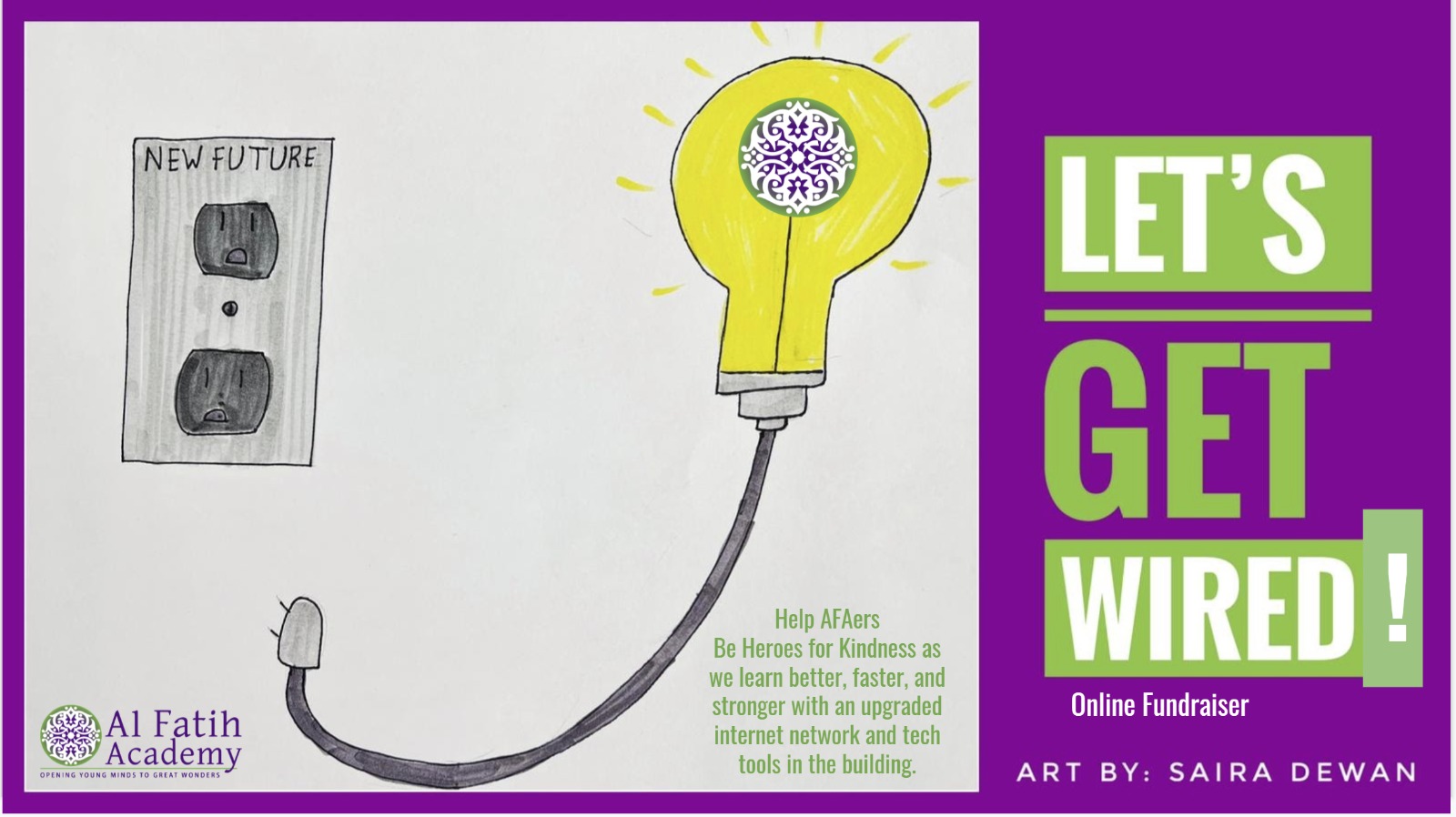 THANK YOU FOR HELPING US REACH OUR SCHOOL WIDE GOAL OF $50,000!
ALHAMDULILLAH for all the support from our families & friends we've EXCEEDED our overall $50,000 goal in record time!! Your donation is Sadaqa Jaariya, allowing you to receive continuous blessings, Inshallah!
Jazākum 'Allāhu Khayran
Al Fatih Academy
Here's how we will use the funds raised:
Upgrade our Network for faster and more reliable connection to access the internet and sites that support classroom learning. [20k]

40 New Chromebooks - Goal 1:1 ratio goal [20k]

Ceiling Projector for Multipurpose Room [~1k]

$5,000 for AFA Classrooms to purchase additional materials and items that further enrich our grade level programs ($500 per classroom)
Have you ever had a slow connection trying to upload your classwork?
Been kicked off of a site you're teaching or learning from?
Wanted to practice more tech skills but couldn't load the program?
We grew a lot during our virtual year and found out how to more meaningfully learn and be connected online. Our school building is beautiful but can be even better with an upgraded internet network and wiring to enable students and teachers to work more efficiently, consistently, and reliably.
Better internet connection will let us access learning sites that AFA subscribes to as well as add more online teaching tools. Faster internet will allow us to conduct regular school-wide online learning assessments throughout the year. These regular assessments will enable teachers to strategically focus their lessons towards student academic needs in a relevant and responsive way. And with additional chromebooks we'll be able to conduct assessments easily and readily for each student.
Support your child's class by donating NOW!
Classes reaching 50% of their goal will receive a class reward

Classes reaching 100% of their goal will celebrate with a class party
Share your class link with friends and family and help us reach our goal even faster!
How long will the fundraising campaign last? Nov. 7 - Dec. 17
Just 6 weeks. It will end before Winter Break.
Your Donations are…
*Tax Deductible (AFA is a 501c3 non-profit organization) Tax Receipts will be provided!
*Sadaqa Jaariya, allowing you to receive continuous blessings, Inshallah!
CURRENT TOTAL: $54,442
Click on the picture below to access your student's class page.