AL FATIH ACADEMY – 'THE OPENING'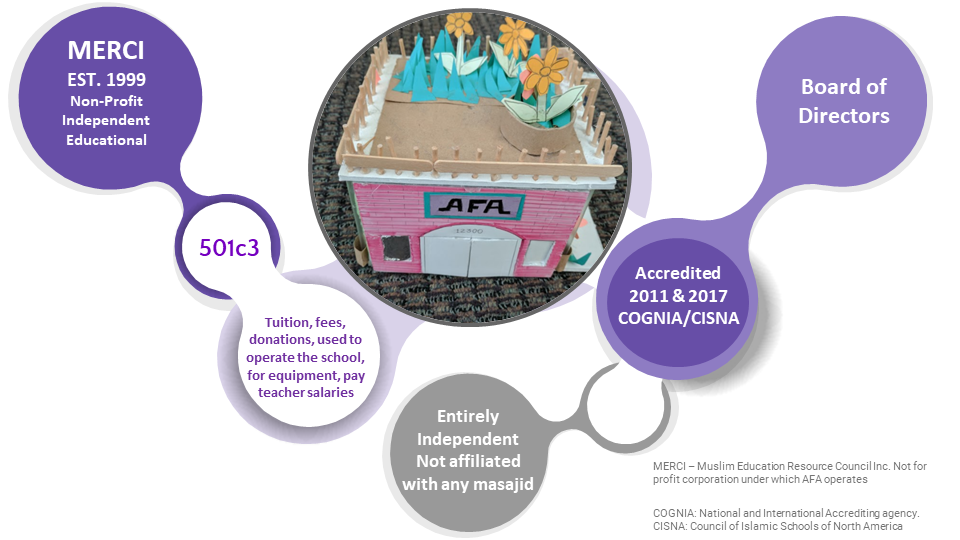 Al Fatih Academy (AFA) operates under the auspices of the non-profit corporation: Muslim Education Resource Council, Inc. (MERCI). This non-profit corporation was established in September 1999 for the sole purpose of establishing a full time Islamic School in our community.
Non-Profit Status
Al Fatih Academy is not a for profit business. As such there is no individual who profits financially from its operation. The fees, tuition, donations and fundraising money that are collected are used to operate the school, purchase supplies and equipment, and to pay staff salaries. The remainder of the money is re-invested into the school for future use.
501(c)(3) Tax Exempt Status
In 2001, MERCI gained a tax exempt status from the federal government. As such, donations made to Al Fatih Academy are tax deductible.
Al Fatih's mission is to cultivate and nurture a thriving American Muslim identity that balances religious, academic and cultural knowledge and imparts the importance of civic involvement and charitable work. Through an interdisciplinary and integrated programming approach, we strive to create an educational environment that unites students, teachers, family, and community to provide an exceptional learning experience.